She's now insulting her fans! There will be spitting next.
"While the vast majority of people responded positively to the casting decision, Rowling said: "I had a bunch of racists telling me that because Hermione 'turned white' – that is, lost colour from her face after a shock – that she must be a white woman, which I have a great deal of difficulty with."
Yup, black people turn white all the time, after all. Just look at Michael Jackson.
And this is the same woman who, just the other day, was saying this:
Having decided that anyone who even questions this is a racist obviously gives her carte blanche to be rude to people:
Seriously now. If the best actor auditioning for Harry Potter had turned out to be black or Asian, would they have hired him? Would they?
Not in a million years. But hey, the sidekick is fair game.
I wonder whether she suddenly realised that pretty much everyone who matters in the HP books is white… Harry, Hermione (yes), The Weasleys, Dumbledore, McGonagall, Hagrid, Snape, the Malfoys, Mad-Eye Moody, Sirius Black, Voldemort, Wormtail, Remus Lupin, Tonks, Neville Longbottom, Luna Lovegood… even the Dursleys (but their characters wouldn't make sense otherwise).
The non-white people only have bit parts. Funny that.
Early illustration of a scene in Philosopher's Stone done by Rowling herself and published on her website in 2004 :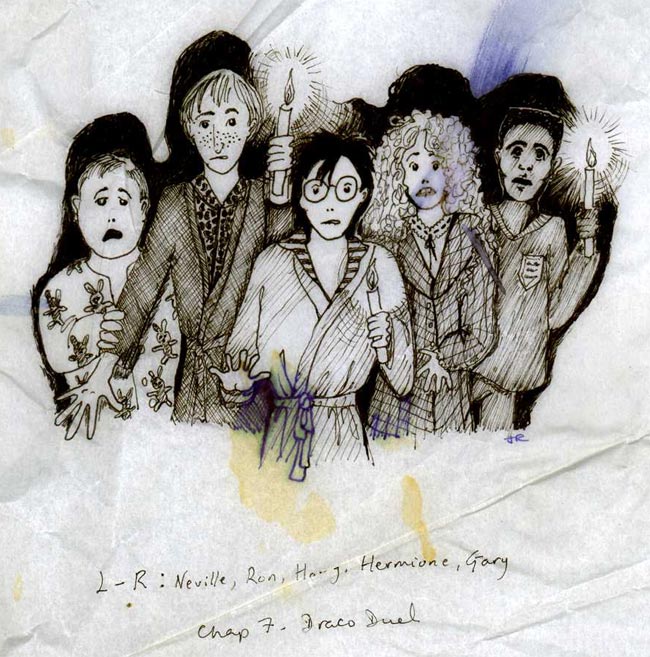 Notice how 'Gary' (who will become Dean Thomas) is clearly drawn as a black boy and Hermione looks perfectly Caucasian? The woman is in denial.