So, Elton John and David Furnish have revealed they don't know which one of them is the biological father of their new baby, since the egg was fertilised by a mix of their semen specimens (thanks for that mental image, by the way).
When asked about it, Furnish said: "We both contributed. For the time being we don't have a clue. We look at him every day and at the moment he has Elton's nose and my hands."
OK, three things:
a) talk about projecting! What part of "the baby will have the genes of only ONE of them" is he having trouble with?
b) all babies have Elton John's nose. I mean look at it.
c) here's a pic of Furnish's hands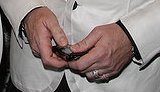 and a pic of the baby's hands

Huh? Is it me?
I nearly forgot to mention the strange wording of "We look at him every day", as if the baby were a recently bought painting instead of a live human being who needs constant care. I know you can't expect Elton John to change nappies but still…